PFM, INC. TAPPED BY SARASOTA, FLORIDA CITY COMMISSIONERS AS OWNER'S THEATRICAL REPRESENTATIVE
Feb 10, 2023

For Immediate Release 10 February 2023
Media Contact: P.J.Prokop 401.574.3103

RHODE ISLAND-BASED
PROFESSIONAL FACILITIES MANAGEMENT (PFM), INC. TAPPED BY SARASOTA, FLORIDA CITY COMMISSIONERS AS OWNER'S THEATRICAL REPRESENTATIVE AS FEASIBILITY PROCESS FOR
NEW ARTS CENTER GETS UNDERWAY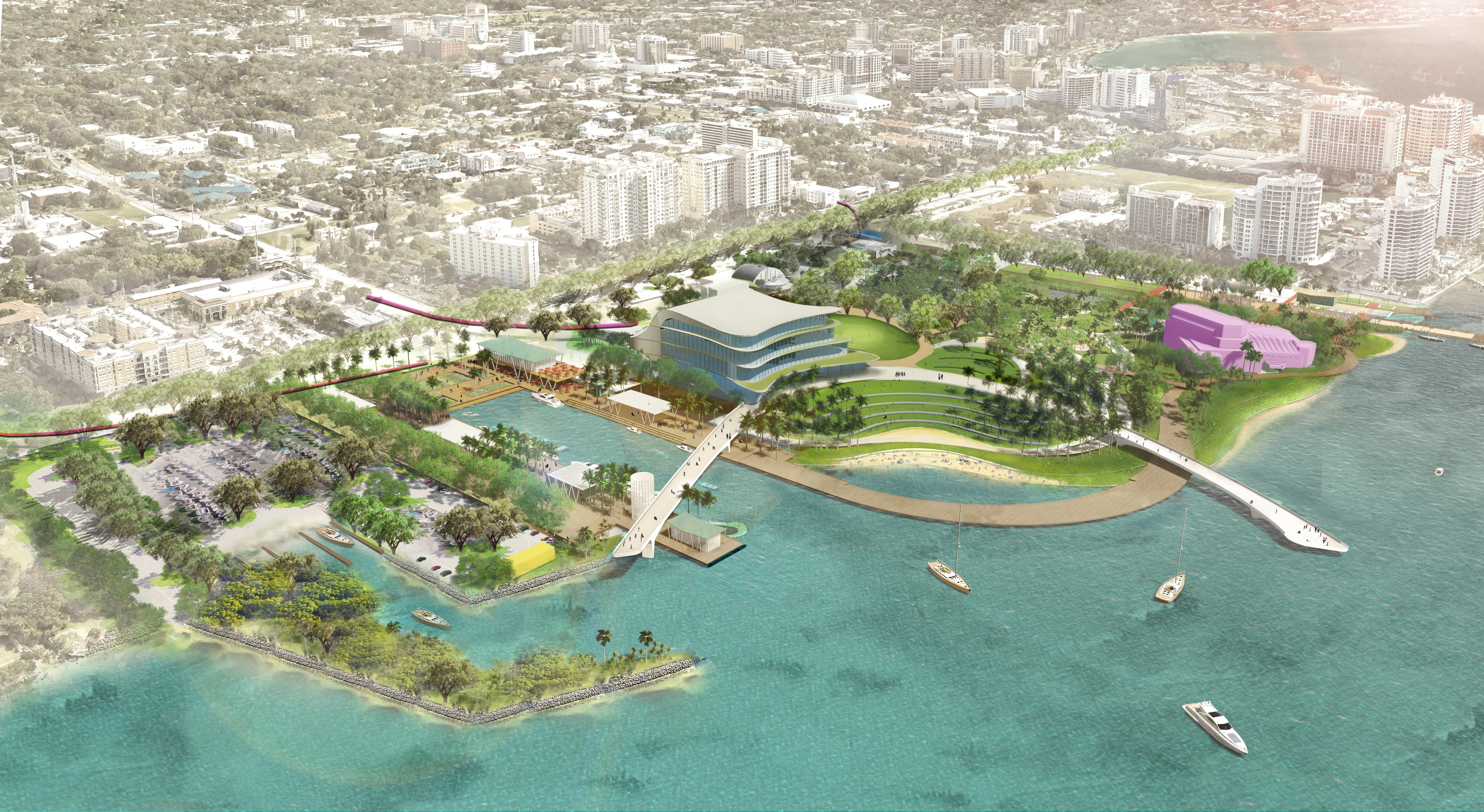 The Bay Park 2018 Master Plan
Rendering courtesy of the Sarasota Performing Arts Center Foundation.
Providence, RI – Rhode Island-based Professional Facilities Management (PFM) Inc. and its founder and President, J.L. "Lynn" Singleton, have been selected as the owner's theatrical representative for the City of Sarasota, Florida as it begins the architectural design process to construct a new Sarasota Performing Arts Center (SPAC) to present Broadway touring theatricals and a myriad of live shows in that city.
Currently, these performances are presented at the 53-year-old Van Wezel Performing Arts Hall; the historic venue was opened in January 1970 with a capacity of 1,741 seats. Due to structural and sustainability issues with the Hall, a Blue Ribbon committee will be appointed by the City Commissioners to explore options for its future use.
The Van Wezel is located on the 54-acre waterfront Bay Park area of Sarasota – this parcel of land is owned by the City of Sarasota and is also the proposed site for the Sarasota Performing Arts Center.
In a recent, unanimous vote by the Sarasota City Commission, PFM, under Singleton's leadership, was selected to be the owner's theatrical representative for Sarasota as consideration of new SPAC project begins. Singleton's 46 years of experience in running nonprofit and for-profit theatres and his firm's expertise in negotiating and implementing broad-ranging agreements with a number of cities in Florida and other locations were cited as key reasons for selecting PFM and Singleton.
Most recently, PFM consulted on the opening of the Tanger Center for the Performing Arts in Greensboro, North Carolina and the firm is currently an advisor to the Byers Theatre at City Springs in Sandy Springs, Georgia and the Sunrise Theatre in Fort Pierce, Florida. In addition, PFM has been a partner with the Nederlander Organization for more than a decade in managing one of the most successful performing arts venues in the country, the Durham Performing Arts Center, also in North Carolina.
"There is currently a Partnership Agreement between the City of Sarasota and the Sarasota Performing Arts Center Foundation to collaborate on this public-private venture," said City Manager Marlon Brown. He stated that it is vital that the city have representation in the initial stage of this process as work begins in the coming weeks with a task force that is now in place to select an architect for the project.
Brown continued, "We are very pleased to have owner's theatrical representation by PFM and Lynn Singleton. In addition to their broad range of experience on both the building management and presenting sides, they have worked with venues in the Northeast, the Midwest, North Carolina and a number of theatres in Florida. Lynn is also a part-time resident of Englewood, Florida, so he is familiar with the state and the theatres here…all in all, we think he and his firm have the ideal combination of knowledge and experience to represent the city judiciously in this process."
Singleton said, "The responsibility of being the owner's theatrical representative is a critical one; the city has entrusted PFM with the privilege of representing them and we will be scrupulous and diligent in looking out for their best interests as the evaluation process begins; we thank them for their confidence in us."
Selection of an architect will begin this April; if a decision to build the Sarasota Performing Arts Center goes forward, it is estimated that groundbreaking would be in 2026 with a projected completion date and grand opening in 2028.
About Professional Facilities Management
Professional Facilities Management, Inc. (PFM) is a wholly-owned for-profit subsidiary of Providence Performing Arts Center. Incorporated in 1988, PFM's expertise relates to the growing need for objective evaluation and management of small-to-medium-sized performing arts facilities in geographically-diverse locations. One of the first companies of its kind, PFM's business is focused on the performing arts industry, with a key focus on Broadway touring theatricals. PFM's corporate mission is to bring a wide variety of programming to the broadest audience while maintaining sensitivity to local constituency needs in a fiscally-responsible manner. PFM is governed by a Board of Directors who contribute business expertise, entrepreneurial spirit, and a bottom-line focus to the firm. Presently, PFM holds management/booking contracts in nine facilities located in five states.
Sarasota Performing Arts Center Foundation (also known as Van Wezel Foundation): vwfoundation.org
Van Wezel Performing Arts Hall: vanwezel.org